Greater Kansas City Community Foundation
Download the application form here.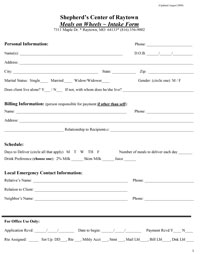 Completed forms can be emailed to  scr.mealsonwheels@gmail.com  or
Mail to:
Shepherd's Center of Raytown
5110 Westridge Circle
Raytown Missouri 64133
Call:
Please contact the Meals on Wheels office at 816-356-9000, 9:00 am to 1:00 pm to answer specific questions.
To learn more about our Meal on Wheels service or to view our monthly menu please click here.
Shepherd's Center of Raytown Brochure
Download a copy of our brochure here.
Volunteer Timesheets
2015/2016 timesheets are available to print or download by opening the links below.
Generic:
Handyman Repair:
Meals On Wheels: 
Wheels That Care: